With Mother's Day on its way here is my round up of my favourite gift ideas.
I hope MR Wellies and Tutus is paying attention!
First up Selfish Mother charity sweatshirt
Not only is this one good looking top its 85% organic cotton and £15 from each top goes to an awesome charity.
There website reads:"All profits from sales of Mother designs go to Women for Women International
– an amazing charity that helps women in 8 war-torn regions rebuild their lives through training programmes." More info here.                                           
This properly made me giggle! EllieEllie are just the nicest people too.
Gym and I have a somewhat  turbulent relationship; he wants commitment I want to spend my evenings with a G&T! I think we are doomed!
We all should be drinking more water and if I need to laugh at my water bottle to do it so be it.
Are We There Yet? Bag 
As you may know from previous posts I love a good bag and always looking for the holy grail! This has got holiyay…I mean holiday written all over it…well that's entirely accurate as it actually says my children go to phrase the minute the engine is switched on in the car 'Are we there yet?'  I for one love this! Love its generous size so I can collect half the beach's contents no doubt or even just to nip to the grandparents because having 4 kids means I carry a lot of stuff! Can I interest you in a low bounce golf ball or Play Mobil ostrich per chance?
Rufus Rabbit Mummy Mug and coaster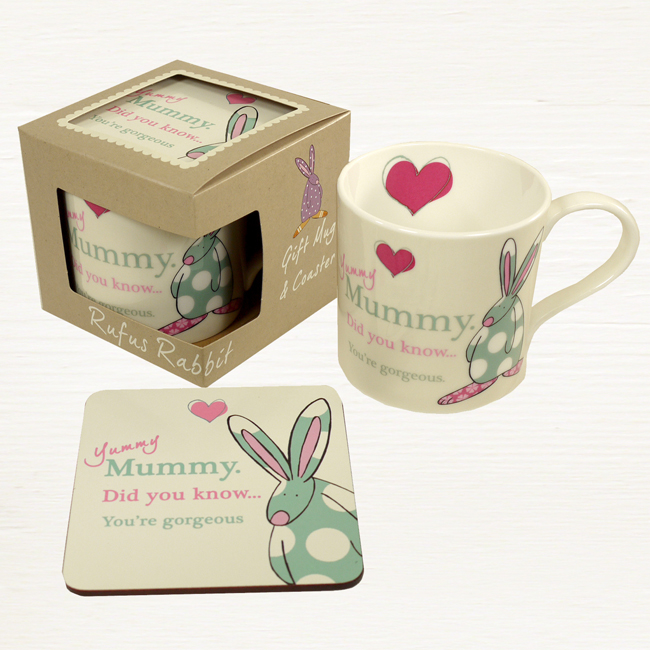 This is such a sweet set from the sweetest company! An utter delight! New mummy or just a mummy that needs reminding she is special and needs lots of tea and coffee! I want this one please!
These affirmation cards by Hollie de cruz are pretty awesome. The London Hypnobirthing online course are the sole reason birth number 4 was a water birth and 'my favourite and my best' to quote Charlie and Lola.
I can totally hear her voice when I was looking at these cards. All mummas could do with a set of these. Here's what the website says:
"Each affirmation is a tiny fist-pump to yourself: a reminder that you are doing the best job at parenting you can. No matter how little sleep you've had, or what the day brings: believe us when we say yesmum, you've got this!"
I love these so much I'm after the mini cards version for my eldest.
Finally, I love flowers and any time I can, I send these Bloom and Wild Flowers.
They are just so clever! Packed so that they through the post box and all individually tucked up just waiting to be awoken by the lucky recipient. Great delivery slots and super cutely named… what's not to love?
What gifts are you sending for Mother's Day?
Have you dropped any big hints on what you would like?
To be perfectly honest a day with my brood is the best gift I can ever have.