I was drawn to Catkin and Olive's beautiful products using some gorgeous fabrics (Peony and Sage for example, which just happens to one of my favourites!)
It turns out Catherine, owner of C&O is a fellow mother of 4. She clearly is also a time traveller!  Or perhaps more likely she possesses  something I do not; excellent time management, in order to make all these hand-crafted products.
I talk to her about her latest venture, 'Mia Mouse' for Peony and Sage.
 So who are Catkin and Olive?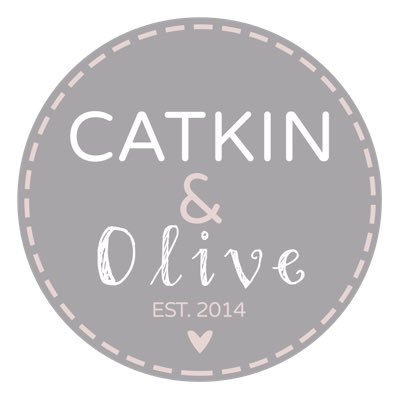 I'm Catherine, mum to 4 mini munchkins and a love of all things made from beautiful fabric!
At school, I always loved art and was torn between making a career in science or interior design. I chose Science~ did a degree in Genetics & a PhD in Rheumatology, but always dreamt what would of happened if I'd pursued the other option!
Then I moved to the Countryside, married, had children and decided to leave the corporate world and follow my dream.
In the summer of 2013, I bought my first sewing machine, a foolproof guide to sewing, taught myself to sew, had plenty of disasters, but totally fell in love with it!
In between mummy duties and whilst my little ones were tucked up in bed, I practised and practised to turn my ideas into products! I taught myself to freestyle embroider, or "draw with a sewing machine". The inner artist in me was free again!
Little, by little I grew in confidence with my making and started to create things for friends and family. They persuaded me to take it one step further. So, in the Autumn of 2014, Catkin & Olive was born! I can whole heartedly say, it's one of the best things I've done.
I know from having my 4, life is a huge juggle. So where does work fit for you?
In the daytime or whilst my youngest daughter sleeps, I dream up ideas and buy too much beautiful fabric! And when my munchkins are tucked up in bed, I turn into the "elves and the shoemaker" and sew whilst they sleep.
What inspires you?
I try to buy beautiful British fabrics and linens, often made by British Designers and normally with country-inspired themes. Or create freestyle embroidered designs that incorporate the above! I love simple, fresh designs, often with a Country style to them.
Why Peony and Sage? 
From the very beginning i have always been drawn to using British fabrics that have been designed & made in the uk. I first came across P&S in 2014 and have been buying from them every since! P&S captures everything quintessentially British that I adore: country-inspired designs of the very highest quality. And I found their customer care second to none & greatly admired their ethos to support and credit those that make for them.
What was the inspiration behind Mia Mouse? 
What was the inspiration behind Mrs Mouse? 
Mrs Mouse "Mia" was designed by Kimberley Bell of Peony & Sage. Mrs Mouse features as part of a magical children's interior range, designed around this gorgeous little character. Peony & Sage have captured her adventures camping and to the beach, through a range of stunning wallpapers, a mini book & coordinating fabrics.
From paper and fabric… how did Mia Mouse come to life?
I was extremely honoured to be asked to turn this loveable little mouse into a handmade toy, that will be cherished & played with by little people for years to come.
We have struck up a wonderful working relationship and I'm immensely proud to be able to stamp every label for Mia mouse and presentation box, with a "Catkin & Olive for Peony & Sage" label.
And finally…
If you weren't Catkin & Olive who would you be?
I would be a professional baker!
I had heard people had made some great pals on Instagram and to be honest dismissed the idea! But I am truly gutted Catherine and I live so far apart as I think she and I would be great 'real life' (drinking) buddies as we have so much in common. So for now I will have to stick to messaging her with all my interior dilemmas! It has been a pleasure Catherine, thank you!
Here is my own Mrs Mouse in her new home:
Chair is upholstered in Peony and Sage's 'Mini Hops' in pink icing. Mrs Mouse dressed in 'Twinkle, Twinkle Mrs Mouse'.
I just adore this little mouse which I bought for my daughter's christening. She is
wrappes in the most beautiful packaging, which makes it a real treat! Mia clearly needs all the dresses and a bed and shoes…
I hope MR Wellies & Tutus isn't reading this bit!
You can buy Mrs Mia Mouse from both Catkin and Olive and Peony and Sage, on sale now.
I was not paid for this post.